Facilities for transformer oil treatment NTML-120M U1, NTML-160M U1, NTML-200M U1, NTML-240M U1
Designed for cleaning from mechanical inclusions and heating of mineral (transformer, turbine, industrial etc.) and synthetic oil as well as other electro-insulation fluids.
Facilities are used during erection, maintenance and operation of the oil-filled high-voltage equipment (power transformers, high-voltage switches etc.) They can be used for heating of active parts of transformers and removal of products of ageing and drying by oil-spray method.
Manufactured in accordance with TU U 29.2-04624312-026-2001 and have Certificates of Compliance in certification systems UkrSEPRO and GOST R of State Standard of Russia.
Climate version — U1 in compliance with GOST 15150-69.
Average service time — at least 10 years, guarantee period — 1 year.
Service personnel — 1 person.
Ecological safety — according to GOST 12.1.005-88.
Fire hazard — according to GOST 12.1.004-91.
Electric safety — in compliance with GOST 12.2.007.0-75.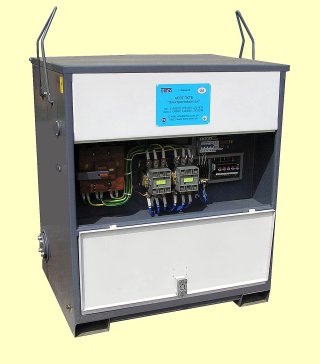 Features


Parameters
Value
1
Capacity, m3/h, at least *
30
2
* Processed-oil parameters:

content of mechanical inclusions, g/ton, Not more than
contamination class according to GOST 17216, not worse than
filtration fineness, µm




8 (10)
7 (9,11)
3 (5, 20)

3
Filtration factor (β-coefficient)
≥20 (50, ≥200)
4
Maximum oil temperature on the outlet In the heating mode, °С, not more
85
5
Pressure on the outlet, kg/cm2, at least
3,0
6
Oil heater power, kW:

NTML-120M U1
NTML-160M U1
NTML-200M U1
NTML-240M U1



7
Specific surface power of oil heater, W/cm2, not more than
1,2
8
Maximum consumed power, kW:

NTML-120M U1
NTML-160M U1
NTML-200M U1
NTML-240M U1



9
A.C. three phase voltage 50 Hz, V
380
10
Overall dimensions, mm, not more than
1200×1100×1600
11
Mass, kg, not more than:

NTML-120M U1
NTML-160M U1
NTML-200M U1
NTML-240M U1



* On Customer's request facilities NTML-80M U1 and NTML-120M U1 can be manufactured with capacity from 3 to 30 m3/h.
PECULIAR FEATURES OF DESIGN
The Facility is manufactured in the form of a metallic container, with the following equipment mounted inside: an oil heater, coarse and fine filter, a pump, electric cabinet and control instruments. Original design of an inertia-free heater with double electric insulation varnish impregnation of the active part and subsequent heat treatment guarantees good moisture resistance and high insulation properties of the interturn insulation and do not allow direct contact of oil with current conducting parts, excludes overheating and thermal decomposition of oil, increases reliability. Heater sectionalizing allows to switch it for the necessary power mode like: 40, 80, 120, 160 and 200 kW.
The filter system provides treatment of at least 1000 tons of fresh oil from the manufacturing factory till regeneration or replacement of filter elements. The protection and automatics system provides automatic disconnection of the Facility in case of backward sequence of phases, with oil flow not available, in case of oil heater overheating, simultaneously a sound signal is generated.
Temperature control and regulation is done with two electronic controllers of temperature, pressure is controlled by a differential pressure gauge.