JSC «PDTB «ELEKTROTECHMONTAZH» is a leader on the territory of the former USSR in the field of development and production of the process equipment for cleaning, degassing and drying of transformer oil, mounting of high voltage transformers.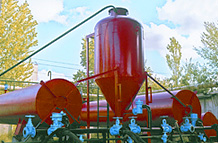 JSC «PDTB «ELEKTROTECHMONTAZH» — is a dynamically developing research and production engineering firm, which for over 39 years has been designing, manufacturing, and supplying: Process equipment for erection and maintenance of power transformers, reactors and other oil-filled equipment with voltage up to 1150 kV including; Hydraulic equipment; Centrifugal hermetic pumps; Fluoroplastic filtering elements.
JSC «PDTB «ELEKTROTECHMONTAZH» also devises projects of execution of work and process charts for erection of electric equipment of nuclear and fossil power plants and substations of Energetics objects.
Process Equipment provides degassing, drying, heating, cleaning from mechanical inclusions and regeneration of transformer oils of FK, Т-750, Т-1500U, ТКP, ТSP, VG types and other oils, used nowadays during operation of oil-filled units.
The equipment also provides drying of oil-filled units hard insulation and preparation of dry air in case of their depressurization.
With the help of this equipment cable, turbine and other oils with kinematic viscosity not more than 100 cSt at the temperature of 40ºС can be processed to achieve the required parameters
Certification of products is a procedure of confirmation of compliance through which an independent from the Executer and Customer organization certifies in written form that products comply with the established requirements.