Plant «Iney-7» in compliance with requirements
Purpose
Plant «Iney-7» (full description — «Iney 7-550-1х150(-70)» is designed for thermal vacuum drying of hard insulation of power transformers and reactors with voltage 110-1150 kV.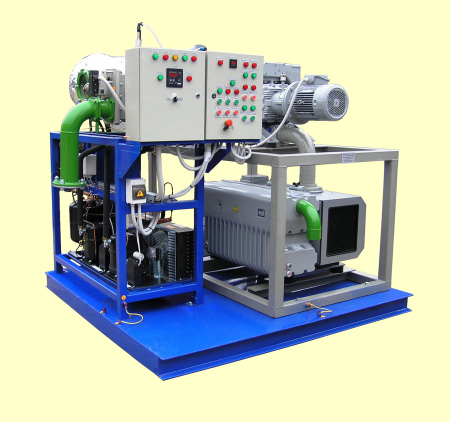 Application
The Plant is used during erection, maintenance and operation of transformers and other oil-filled units, containers of which can withstand pressure of 26 Pa. The Plant can be employed for vacuum treatment of electric equipment containers and air-tight vacuum systems of large volume (for example, when drying and regenerating transformer hard insulation by-spray method).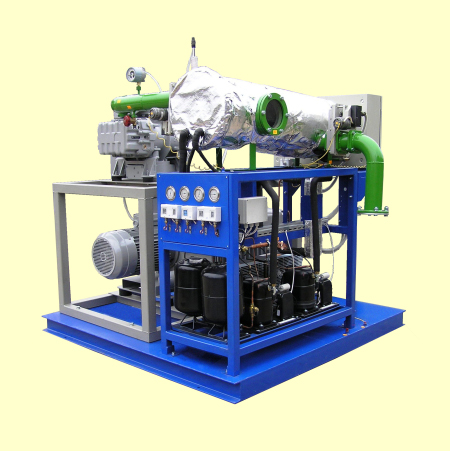 Terms of operation, Certification
The Plant is manufactured in accordance with requirements of TU U 34.04624312.011-97 and has Certificates of Compliance in certification systems UkrSEPRO and GOST R of State Standard of Russia.
Climate version — U1 in compliance with GOST 15150-69.
Average service time — at least 10 years, guarantee period — 1 year.
Service personnel — 1 person.
Ecological safety — according to GOST 12.1.005-88.
Fire hazard — according to GOST 12.1.004-91.
Electric safety — in compliance with GOST 12.2.007.0-75.
Delivery set
The Plant delivery set is given in table 1
Table 1
| | |
| --- | --- |
| Delivery set | Quantity |
| Plant «Iney 7-550-1х150(-70)» | 1 |
| Passport | 1 |
| Operation Manual | 1 |
| Set of spare parts, tools and devices | 1 set |
| Documents for components | 1 set |
Components
The Plant is made in the form of a metallic container with the following equipment installed inside: a vacuum system, a freezing trap with a stand-alone refrigerating unit, shut-off valves, pipe-lines, control cabinet, instrumentation and signaling devices.
Peculiar features of design
Vacuum system

The Plant employs vacuum equipment of western-European manufacturers: Roots pump, GMa 13.f7 HV series, manufactured by GMBH, Germany and sliding-vane rotary pump PVL 540, manufactured by P.V.R. Italy. Speed of operation of the GMa 13.f7 HV pump — 555 h/p (which is more than that of a domestic-manufacture pump analogue by 10%), that of PVL pump 540–150 h/p. Roots pump has a by-pass system which guarantees its automatic switching on after achieving pressure 45 mbar (4,5 kPa) in the freezing trap.

Vacuum pumps have low noise and vibration level. They do not require a special cooling system which is mandatory for analogues of domestic manufacture.

Freezing trap

The Plant is completed with a freezing trap, which:

excludes application of coolants;
provides protection of vacuum pumps from moisture;
at the account of increased freezing surface provides more efficient process of hard insulation drying.

To achieve temperature (below minus 70°С) on the surface of the freezing trap stand-alone refrigerating equipment is used. With this there is no need of applying consumables, i.e. coolants, (dry ice, liquid nitrogen) and acetone. Also in the refrigerating equipment the area of freezing is increased up to 6,1 m2 (in the plants of «Inei-4» series and others –1,35 m2).

A special «spiral» design of the freezing surface facilitates increase of its area during the time of hard insulation drying. Such design of the freezing trap provides reduced time of hard insulation drying at least by 20%. The refrigerating equipment is defrosted automatically without opening of flange couplings of the housing. Time of defrosting is not more than one hour.

Costs saving only due to non-application (acquisition, transportation and storage) of consumables for drying of a single transformer makes about 2 thousand dollars. All savings for drying of one transformer makes 4÷5 thousand dollars.

Other features

The metallic container is encased for warm keeping. There is a system for preliminary heating of the Plant components before use in the winter time.
Short description of operation
The Plant is connected to the transformer with a vacuum-line.
The refrigerating system of the freezing trap is switched on and after achieving temperature not more than minus 70°С in the trap (approximately in 25÷30 min.), the vacuum system joins the operation.
With the vacuum system switching on a preliminary rarefaction pump is switched on automatically. At achieving the pressure 4,5 kPa (34 mm. Mercury col.) in the freezing trap Roots pump is switched on automatically.
It should be noted that use of the by-pass system excludes the need in additional valves in the pumping out circuit and hence, increases reliability of the Plant, as well as excludes manipulation with valves in the process of setting the Plant in the drying mode. Putting the Roots pump in operation at the pressure of 34 mm Mercury col. reduces the time of setting the Plant into the drying mode at least by two times (e.g. while using vacuum pumps 2DVN-500 of domestic manufacture, its starting pressure is not more than 5 mm. Mercury col.).
During the drying process the refrigerating unit is defrosted every 24 hours which is done automatically without opening flange couplings of the housing. Defrosting time lasts not more than one hour.
Criteria of the drying end correspond to the current Regulations documents.
Characteristics of the Plant
Plant characteristics are given in table 2.
Table 2


Parameters
Parameter values
1
Speed of steam and gas mix pumping out within 26,6 Pa-4,5 kPa, h/p, pressure range, at least
550
2
Residual pressure in the trap, Pa, not more than
1,3
3
Residual pressure created by the Plant in the electric equipment, Pa, not more than
26,6
4
Speed of pumping out by the preliminary rarefaction pump within 100 Pa-100 kPa, h/p pressure range, at least
150
5
Water-vapour trap characteristics:

Condensation surface of water vapour, m2, at least
Temperature of condensation surface, °С, not higher than
Defrosting manner
Defrosting time, hour, not more




6,1
minus 70
automatically
1

6
Three phase power voltage, 50 Hz, V
380±10%
7
Installed power, kW
17,5
8
Overall dimensions, m, not more:


9
Mass, kg, not more than
1400