Air-drying plant «Suhovey-6-150(-50/1)-1»
Designed for drying and clearing the ambient air used for blowing down power transformer containers and other electric equipment from mechanical inclusions in the process of their mounting, maintenance and servicing in order to protect hard transformer insulation against moistening at the moment of depressurization of its active part.
The Plant is manufactured in compliance with requirements of TU U 34.04624312.014-97. It has a Certificate of Compliance in the certification systems UkrSEPRO and GOST R of State Standard of Russia and is manufactured in compliance with the Quality Assurance System (Certificate UA 2.003.02947-08).
Climate version — U1 according to GOST 15150-69.
Average service time — at least 10 years, guarantee period — 1 year.
Service personnel — 1 person.
Ecological safety — according to GOST 12.1.005-88.
Fire hazard — according to GOST 12.1.004-91.
Electric safety — according to GOST 12.2.007.0-75.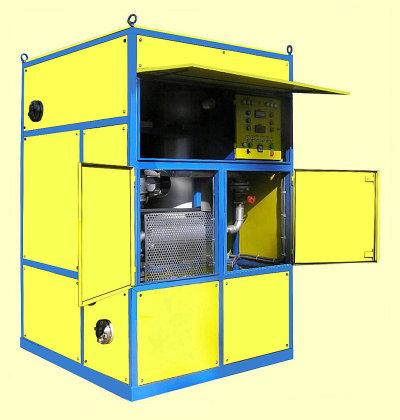 Features


Parameters
Value
1
Plant parameters in the air drying mode
1.1
Capacity, m3/h:

continuous operation mode, at least
cyclic operation mode



1.2
Dew point on the outlet, °С, not higher than:


1.3
Range of temperature adjustment during heating of the dry air, °С
20÷45
1.4
Rated filtration fineness, µm
5
1.5
Maximum pressure on the outlet, MPа
0,03
2
Parameters in the mode of hot air preparation
2.1
Capacity, m3/h, at least
300
2.2
Range of temperature adjustment, °С
50÷350
3
Availability of a dew point meter
available
4
Recommended sorbent
Na-3A
5
Quantity of adsorbers
2
6
Mass of sorbent in an adsorber, kg
200
7
Installed power , kW, including that of:

a heater for regeneration of sorbent
a heater for heating dry air
a compressor

24

8
Flanges for connecting (Dу), mm
50
9
Lighting, W
1×60
10
Electrical parameters:

power network


current type
frequency, Hz
voltage, V




The neutral grounded solidly
alternative
50
380±10%

11
Overall dimensions, mm, not more than:


12
Mass, kg, not more than
1050
PECULIAR FEATURES OF DESIGN
The Plant is manufactured in the form of a metallic container, with the following equipment mounted inside: a compressor, heaters, two adsorbers, air filters, control cabinet.
Air is dried in the Plant by adsorption process. The Plant can operate both in the continuous and cyclic modes.
Main advantages of the Plant as compared with prototypes are as follows:
possibility of continuous operation with the capacity 150 m3/h (one adsorber operating, another regenerating) and a guaranteed dew point not higher than minus 50°С;
possibility of cyclic operation with the capacity up to 250 m3/h (with two adsorbers operating) and a guaranteed dew point not higher than minus 50°С;
possibility of cyclic operation with the capacity up to 200 m3/h and obtaining the dew point not worse than minus 65°С;
dried air filtration fineness not more than 5 µm (at additional Customer's request — 3 µm);
noise level considerably reduced due to application of Vortex blower (70 dB, as compared with 95 dB of prototypes);
during operation in winter there is a provision for dry air heating with automatic temperature adjustment within 20÷45°С range;
preparation of cold and hot air with the capacity up to 250 m3/h and automatic temperature adjustment within 50÷350°С range;
possibility of adsorbent regeneration, including oiled ones (zeolites, aluminium oxide, silica gel etc.) in adsorbers of other equipment, as well as cooling of the regenerated adsorbent with dry air.