UVM 10-3 U1
Small-size transformer (turbine, industrial) oil treatment plant
Designed for thermal vacuum processing of transformer, cable, turbine, industrial and other oils to remove gases, water and mechanical inclusions. It is used during erection, maintenance, operation of oil-filled high-voltage equipment both air-tight and non-air-tight with voltage up to 1150 kV including (power transformers, high-voltage switches etc.) and turbines. The Plant can be used for heating the equipment with hot oil, for nitriding transformer oil and topping up high-voltage inlets.
It is manufactured in compliance with requirements of TU U 29.2-04624312-026-2001 and has Certificate of Compliance in certification systems UkrSEPRO and GOST R of State Standard of Russia.
Climate version — U, placement category — 1 in compliance with GOST 15150-69.
Average service time — at least 10 years, guarantee period — 1 year.
Service personnel — 1 person.
Ecological safety — according to GOST 12.1.005-88.
Fire hazard — in compliance with GOST 12.1.004-91.
Electric safety — according to GOST 12.2.007.0-75.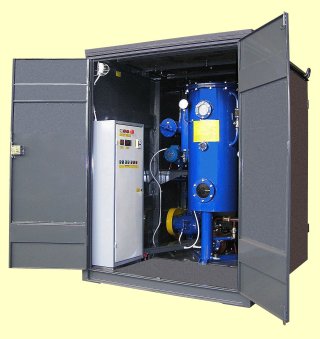 Features
Table
Parameters
Value
Capacity, m3/h, rated:

in the mode of degassing, drying and filtration
in the mode of heating and filtration



Capacity adjustment range, m3/h
0 – 4
* Parameters of the processed oil:

volumetric gas content, %, not more
mass moist content, g/ton, not more
content of mechanical inclusions, g/ton, not more
nitrogen content after nitriding, %
contamination class according to GOST 17216, not worse
filtration fineness, µm
breakdown voltage, kV, at least




0,1
10,0
8
8,5±0,5
9
5
70

Oil temperature in the mode of heating, °С
85
Filtration factor (β-coefficient)
≥50
Outlet pressure, MPa, at least
0,35
Height of oil delivery relative to the outlet branch pipe, m
35,0
Oil heater power, kW
80-120
Specific surface power of the oil heater W/cm2, not more
1,15
Maximum consumed power, kW
140
A.C. Voltage, three phase, 50 Hz, V
380
Overall dimensions, mm, not more
2200×1600×2000
Mass, kg, not more
1500
* Parameters given in the table are guaranteed for one treatment cycle with the following parameters of the original oil: volumetric gas content — not more than 10,5%; mass moist content — not more than 50 g/ton.
Peculiar features of design
The small-size plant is manufactured in the form of a metallic container with the equipment installed inside and an operator's working place provided. Original design of an inertia-free heater with double electric insulation varnish impregnation of the active part and subsequent heat treatment guarantees good moisture resistance and high insulation properties of the interturn insulation and do not allow direct contact of oil with current conducting parts, excludes overheating and thermal decomposition of oil, increases reliability. Heater sectionalizing allows switching it for the necessary power mode like: 40, 80, 120 kW.
Two-step system of filters provides treatment of at least 1000 tons of fresh oil from the manufacturing factory till regeneration or replacement of filter elements. An additional set of filter elements is delivered with each Plant in the spare parts and tools kit. The protection and automatics system provides automatic disconnection of the Plant in case of backward sequence of phases, with oil flow not available, in case of oil heater overheating, simultaneously a sound signal is generated.
The original design of the vacuum chamber with a new highly effective extension provides the Plant capacity up to 4,5 m3/h. By means of regulating valves and a gauge, which can be included in the Plant complete at Customer's request, the required capacity from 0 to 4 m3/h is smoothly set.
In the vacuum system there is a branch pipe, which allows connecting it for transformer degassing and that of other equipment.
Small size and mass of the Plant allow to place it in a rail-way container, in an automobile trailer and to convey it by highway without restrictions.
Also the Plant has reduced vibration which meets the requirements of labour safety rules.
In complete with Plants «Iney» and «Suhovey» the Plant UVM 10-3 U1 allows to fulfill all processes of transformer oil treatment and that of hard insulation of power transformers.