CGE Centrifugal hermetic screened-drive pumps
Centrifugal hermetic screened-drive pumps CGE are designed for delivery of transformer oil within temperature interval from minus 20 to plus 90°С.
Pumps are manufactured in accordance with requirements of TU 34.04624312.019-98 and have Certificate of Compliance in certification systems UkrSEPRO and GOST R of State Standard of Russia.
Climate version — U1 in compliance with GOST 15150-69.
Average service time — at least 10 years, guarantee period — 1 year.
Service personnel — 1 person.
Ecological safety — according to GOST 12.1.005-88.
Fire hazard — in compliance with GOST 12.1.004-91.
Electric safety — according to GOST 12.2.007.0-75.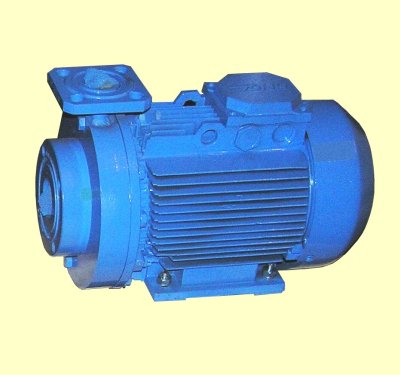 Models
Description
Working delivery range, m3/h
Head, m, maximum
*Motor power, kW
Overall dimensions, mm
L x B x H
Mass, kg
CGE 6,3-30-4

3,0÷9,0

32

4,0

360×250×285

40

CGE 8-40-5,5

4,0÷11,0

40

5,5

390×250×285

42

CGE 12,5-50-7,5

6,0÷15,0

55

7,5

425×322×295

57

CGE 25-32-7,5

10,0÷30,0

35

7,5

425×322×295

56

CGE 32-40-7,5

15,0÷40,0

42

7,5

425×322×295

57

CGE 25-50-11

10,0÷30,0

55

11,0

510×337×328

78

CGE 50-32-11

20,0÷60,0

35

11,0

510×337×328

82

CGE 50-50-15

20,0÷60,0

55

15,0

612×337×370

102

CGE 25-80-15

10,0÷30,0

85

15,0

612×337×370

115
PECULIAR FEATURES OF DESIGN
The pump is made in the form of an integrated unit, consisting of a pump unit and an electric motor of conventional industrial or dust-ignition-proof design with built-in hermetic screen.
Rotation is transmitted into the hermetically sealed space to the impeller by electromagnetic field through thin-walled hermetically sealed screen which provides absolute air-tightness without mechanical friction seals (end seals, glands).
The material of parts contacting with fluid to be pumped — is carbon steel, type: Steel 20.
The outlet branch pipe (with a flange or thread) — vertical, horizontal or at an angle is customized.
At a special Customer's request pumps with different parameters can be manufactured and for delivery of other neutral fluids, possessing lubricating ability and close to transformer oils as to their physical properties.
Density of fluids to be pumped should not be more than 1200 kg/m3, kinematic viscosity up to 40х10-6 m2/f, temperature — from minus 50 to plus 120°С, mass fraction of hard non-abrasive inclusions — 0,2% with particle size not more than 0,2 mm.
At Customer's request updating is possible — installation of a magnetic clutch on centrifugal and other types of pumps available in the production. This will eliminate operations like permanent stuffing of glands or repair of end seals, improve conditions of labour of the servicing personnel and liquidate leaks of products being pumped as well as completely stop discharge of contaminations into the environment.